I promised that I would show you how to automate Salome, including geometry, mesh, simulation and post-process!
So, here you go ;-)
Let's start with the Geometry and the Mesh today.
Nothing too fancy, just a 3D plate… but that's how great project start, from small plates !
If you haven't watched the first video of the Series, I recommend you to watch here because I won't come back on the basic YACS commands that I taught in the first video.
In this video, I will teach you:
How to Create and Mesh a plate in Salome
How to Extract the Python code
How to use YACS to create an automation which can create a parametric meshed model
The models, the files and the code are here
I am starting to use Ubuntu in this video, because in the next video, I will be showing you how to simulate all that with Code_Aster and improve this automation.
Unfortunately, this process doesn't work yet in the windows version, so do like me, create a virtual ubuntu machine and use the ubuntu version.
If you like the article, please like the video and subscribe to my channel!
Thank you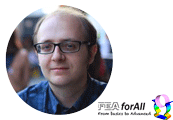 Cyprien "Making your Mesh Parametric" Rusu