Have you ever wanted to automate your simulation process in Salome?
The good news is that you can with a little known module called YACS.
This module is a bit difficult to use at first without have received a training about it because the interface isn't very intuitive (It's open-source…), but once you saw how it works at least once, it becomes much easier to use it!
As there is almost no tutorials about YACS online (as far as I know…) I decided to make this video to show you the raw basics ;-)
I hope you will like it!
Here's the video:
In this video, I will teach you:
How to automate a workflow in Salome using a module called YACS
How to build a very simple YACS schema to understand how it works
What you can do with YACS
If you like the video, please like the video and subscribe to my channel!
Thank you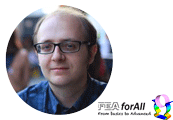 Cyprien "Teaching FEA Automation Lesson 1" Rusu