The next video of the YACS series "Salome Automation" is here and we are going to learn together how to automate a Code_Aster simulation with YACS… Cool, eh?
This is the 3rd video of the series, so I won't go back on the basics I taught in the video 1 and in the video 2 of the series. If you haven't watched those videos, that's where you need to start!
In today's video, we will see how to create and setup a code_aster simulation and how to generate a python node in YACS that will run it automatically.
Let's go, here's the video:
In this video, I will teach you:
How to add a Code_Aster Python Node in your YACS Scheme
How to run Code_Aster from Python and YACS
How to generate results in Text that will be parsed in a next video
The models, files and the code are here
Now, if you are totally new to Code_Aster (Or just a little rusty), you can probably also watch this video which comes back on how to simulate a wrench CAD model in Code_Aster.
If you like the video, please like the video and subscribe to my channel!
Thank you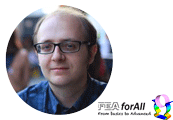 Cyprien "Subprocessing your Aster Life" Rusu