When you calculate with Salome Meca, all results are often saved to a med file which can be bulky and requires paravis to be opened.
If you just want to save a small number of specific results to a text file, there is a way to do that as well.
You can also monitor the results of a nonlinear simulation in real time. This short video will teach you how!
If you haven't watched the full leaf spring tutorial, you can see it on the blog here:
Let me know if you have questions or comments
Thank you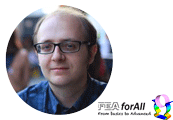 Cyprien "From MED to Text" Rusu