Finally, a tutorial about Transient Thermal Simulation ;-)
In this video, I'll go through all the process to define and simulate a model with several parts and perform a transient thermal simulation in Salome Meca!
Yes, you have been a lot to ask me about this one… I hope this will finally clarify the simulation process for such simulation with Salome Meca as there are a few aspects which can easily lead to confusion.
Here's the video:
You will learn in this video:
How to import and mesh a CAD model with several parts
How to perform a steady state thermal analysis with power source and convection.
How to change the analysis into a transient state thermal simulation
How to analyse and understand the results
Download the model here
If you are new to Heat Transfer, have a read at this article from the blog, it will help you a lot to understand the basic principles:
If you like the video, please subscribe to my channel and to the blog!
Let me know if you want to see something more in the comments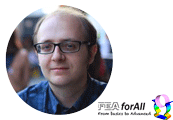 Cyprien "Experiencing Temperature Change right now and cold as hell" Rusu