In this Salome Meca Tutorial, we will go through one of the most complex simulation on this channel, a leaf spring simulation with 3 distinct types of nonlinearity: Nonlinear Material, Large displacements and Nonlinear contact !
I chose to divide this tutorial in 2 parts because it is a very complex simulation and there are many intermediate steps we need to go through to get it right.
In the first part, I have first setup a simple elastic study of the spring alone and I have created a nonlinear material simulation of this spring.
If you haven't watched the part 1, I highly recommend you to do so, because you need to understand those basics for the part 2.
In this part 2, I will show you how to change the geometry and the mesh and how to define the nonlinear contact correctly and get the convergence of the solution.
Here's the video:
Here's what I will talk about in this video:
Introduction
The Simulation Problem
Simplifying the geometry
Meshing the Spring
Meshing the Plate
Creating the Mesh Groups
Discussion about Contacts in Code_Aster
Setting up the Model
Debugging the Simulation
Solving the Contact Convergence
Notes about utilisation of Contacts in CA
Real time result monitoring
Review of the final solution
CAD Model, and All simulation files are available here on Github:
https://github.com/CyprienRusu/Feaforall/tree/master/Salome%20Meca%20Tutorials/leaf_spring_final
This is the best documentation about contacts in Code_Aster:
https://www.code-aster.org/V2/doc/v15/en/man_u/u2/u2.04.04.pdf
(Check the French version if you speak French, it is way better…)
Check also my other nonlinear material tutorial: the Plate with a hole
If you like this video or if you have some questions, just let me know by leaving a comment, I read all of them!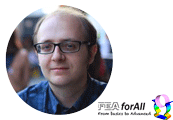 Cyprien "Just happy to have finished this BIG tutorial" Rusu :-)