In this tutorial for Salome Meca with Code Aster, I will talk about:
What is nonlinear quasi static simulation
Some of the theoretical aspects that you need to understand for nonlinear simulation
How to change the plate with a hole model into a nonlinear simulation
How to enter the strain hardening curve in code aster
How to control the solution to make it converge
I hope you'll learn a lot!
This video is a following the previous tutorial where I talk in details about the linear static simulation of the plate with a hole. If you haven't followed that tutorial, I advise you to start there first before going into the nonlinear part!
Here's the video:
For Chinese users here's a link on Bilibili to the video
The Chapters of the video:
00:00:00 Introduction about the video
00:02:36 Basics about nonlinear simulation
00:25:33 Setting up Code Aster for Nonlinear Simulation
00:36:11 Nonlinear Plate with a hole Simulation
00:54:04 Setting up Nonlinear Material and Hardening Curve
01:13:52 Advanced Controls – Controlling the Convergence
Download the model and all the scripts here
If you have any question of comment, let me know!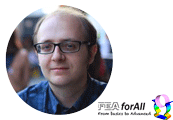 Cyprien "Finally teaching the nonlinear stuff" Rusu ;-)