Last week, I showed how to install Salome CFD on Ubuntu 20.04. Today, I will show you how to work with Salome CFD in 2022 with the simplest Channel Flow Tutorial.
The model is a simple rectangular flow shape with 1 layer of elements in Z direction to make it 2-dimensional and I applied to it a flow velocity inlet of 0.6667 m/s and a Pressure Outlet.
That's probable the simplest CFD model you'll ever find!
In the post-process, I'll show you how to set up probes to extract the velocity at specific positions and how to extract the flow profile as well.
Note that I will be using Code_Saturne 7.0 as the solver,, so there might be some differences if you are using an older version. This is an updated version of an older article that I wrote 4 years ago as things have changed a bit since.
Here's the video:
What you will learn in this video:
Introduction
Building the Model
Meshing the Model
Creating CFD Simulation in CFD Study
Checking the Results in Paravis
If you have mot installed Salome CFD, check this article from last week:
Thanks for watching my videos and reading my articles as always!
If you have any question of comment, please post it here, I read all of them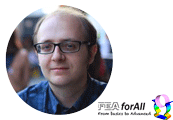 Cyprien "Back to Salome CFD in 2022" Rusu