What is CAE?
Maybe you have already heard those three letters « CAE »
… and you are wondering what it means
Here's a quick video that explains the concept behind CAE:
This is what I will explain right now
What is CAE: a simple introduction to « Computer Assisted Engineering »
let's say you are product designer and you are wondering how to make the best design for your products but…
What is a great design?
Something that will catch the eye of your clients?
…not really
Materials, quality and resistance of your product are all very important
This is why you will have to perform series of standard tests on your product to validate the design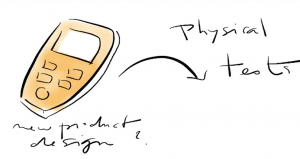 For each different product you have different types of tests that will help you to determine if your design will fail or not.
So, if we suppose that you are an  "electronic device designer"  for example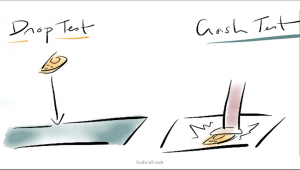 One of the tests you will have to do is called the drop test
In other words, throw your product on the ground to see if it breaks or not…
Then you have also the crash test and various destructive test
then all is is not about stress,  you have also to do thermal cooling tests for example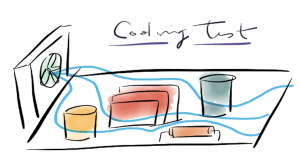 Basically it's to see if your device will not overheat during its life
This is a required test for electronic devices because they are always consuming power and heating
Do you remember the last time you turn off your cell phone?
If not… you probably understand how much heat management is important to keep electronic devices functioning.
How CAE assists to reduce the cost of prototyping
To simplify I just considered those three tests but you have to know that to get the quality we have in actual products much more tests are required so when you do the drop, the crash test and the cooling test, you will already have  spent a fair amount of money…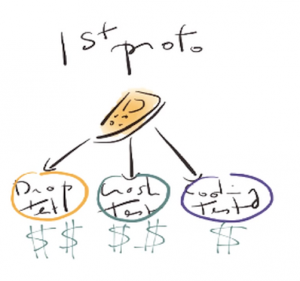 But you have to understand that this is only the first prototype…
So when the physical test of all the prototypes all over you will have spent a lot of money just to be sure it won't fail under certain design scenarios
After following all this process you may ask yourself this question:
« How can I limit the cost of all those physical tests? »
That's where a CAE software comes handy to simulate your part or system on a computer rather than to do all the physical testing every time.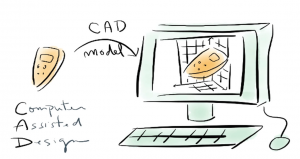 CAE Software versus CAD Software, what is the difference?
The first step to do that is to create a 3-D model of your product using a CAD software
« CAD » stands for computer assisted design… but this is only the first step!
When you have your 3-D model in CAD, you cannot directly test, you have to use another CAE Software
What you need to remember is that CAD is for graphical design, whereas CAE is for real engineering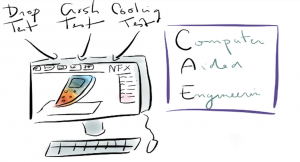 It is true that sometimes you have some testing module embedded in your CAD Software, but most of the time those are quite limited and the results you get are not that accurate.
This is why professionals use a separate Software to do the job
So as you see, CAE stands for « computer aided engineering »
It is a way to solve all kinds of engineering problems of your products using a computer
This kind of software is also known as a FEA analysis software because it uses the Finite Element Analysis Method to solve engineering problems
You can directly perform all these tests of drop test, crash tests and cooling test in a CAE software and you don't need to spend money on so much physical tests
So, in your design process, all the prototypes can be tested directly in your computer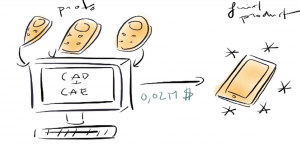 The result is that you gain some significant amount of money and you get your final product as well :-)
Next Article To Read:
——
Let me know if it helps you in ANY way, it always makes me happy to know that I am helping engineers to become better and better in FEA simulation.
The world needs REAL engineers, that's why I am doing all that.
If you like that article, you can also help me by sharing it with your team or with your network on Linkedin, a sincere THANK YOU for helping me to spread good practices of engineering!