In the previous nonlinear leaf spring tutorial (part 2), I have mentioned that there are ways to optimize the E_N penetration contact coefficient.
This is a procedure which is usually done recursively by choosing a coefficient, checking the penetration and then increasing the value until a good solution is obtained.
In Code_Aster, there is a command that will automatically check the penetration and increase this E_N coefficient. Isn't that nice?
This short video will teach you how:
If you haven't watched the full tutorial, you can see it on the blog here:
Let me know if you have questions or comments
Thank you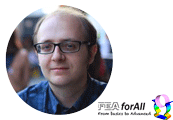 Cyprien "E_N Penetration coefficient will have no secret for you" Rusu