Let's Talk about Openfoam, Salome and Turbulent Flow Simulation :)
In this 5th tutorial, we will look into how to build an OpenFoam model from scratch by using Salome to do the CAD processing and the Meshing!
I'll also give you some useful bits of knowledge about turbulence modeling in CFD analysis, so I hope this will be useful!
Here's the video:
What you will learn in this video:
How to prepare the Geometry in Salome
How to mesh the inner Volume in Salome
How to prepare the OpenFoam Case Study
How to choose the OpenFoam Solver
How to choose the turbulence Model
How to convert the Mesh to OpenFoam
How to set up all the OpenFoam Boundary Conditions and settings
How to set up the residuals monitoring
How to solve the simulation with PisoFoam
How to check the convergence of the residuals
How to post-processing the results with ParaFoam (Paraview)
If this video was helpful, please leave a like and subscribe to my channel, thank you!!
What is Openfoam?
Openfoam is currently the leading free and open-source solver for Computational Fluid Dynamics (CFD). It belongs to the Openfoam foundation and it is distributed under a GPL License. This GPL License gives you the freedom to redistribute the software and it garanties that the usage will remain free.
Download the CAD File:
https://www.mediafire.com/file/6kgn24035c8urk8/inner_flow_pipe.step/file
Download all the files:
https://www.mediafire.com/file/yrnh7i6kn8inylc/innerFlow3.zip/file
If you have any question of comment, let me know!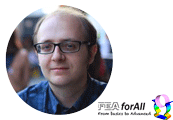 Cyprien "OpenFoam with Salome is Awesome" Rusu