Have you realized how everyone is always talking about FEA as the ultimate weapon to solve any engineering problem?
In one direction, that's true, FEA is very powerful… but there are also some dangers, and no one is talking about them.
Results accuracy is the biggest danger
Almost everyone focuses on getting accurate results… or, at least, everyone wants that.
What happens in the reality may be totally different.
Results accuracy is obtained from a variety of reasons that you probably are aware off already:
Quality of the input
Accuracy of the algorithms embedded inside the software you use
Engineering knowledge and skills of the engineer performing the analysis
Comparison with real test data
Accuracy of the real test data
Accuracy of the finite element model
…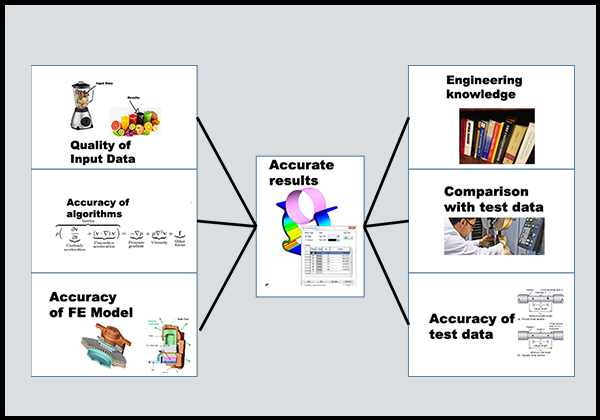 So many things have to be considered that it's kind of always difficult to get accurate results.
And the main problem is that if you get only one of those things listed wrong, the results have a high chance to be wrong as well.
Why result accuracy is important?
I probably don't need to explain that too much… I guess that most of the engineers reading know the importance to get accurate data.
But however you may not be aware of all the implications that wrong results may cause!
To show you the problems that result inaccuracy may cause, there is a short video that I like very much. Here it is:
(It is very short but very impactful, and I insist…. you HAVE to watch it)
Ok, now that you watched this video, what do you think??
Do you understand how much a problem in the design can impact the lives of many people?
I personally believe that engineers must fight to get always the best results in any circumstance because every action you have an impact on the world!
Bad design causes failure which causes problems that might be harmful and even kill people is some extreme situations.
FEA is now so common in the design process that it directly dictates to the designers how the model should be designed.
Unfortunately, the mistake that many designers do is probably  to underestimate their knowledge about FEA and build some models which are flawed.
That was a short post, but I hope it has been useful to you.
Do you have some personal story about results accuracy?
I would like to know what kind of problems you faced with FEA in order to write more useful articles about those topics.
If it can help engineers, and also people using the products designed by those engineers, I am ready to invest my time to help as much as I can!
Just write your experience in the comments! Thanks
Some other articles that may interest you:
When do you actually need Simulation is product design?
Did you ever experience Design Failure?