In this video tutorial for Salome-Meca 2017, I will show you how to do a modal analysis of a simple plate with Aster-Study!
Here's what you will learn:
How to model the plate and prepare the mesh
How to use the ASSEMBLAGE function to generate the mass and rigid matrix.
How to use the CALC_MODES function to perform a modal analysis
How to vizualize the results with Paravis (animation)
How to write the modal frequencies in a text file
If you want also to understand what is actually a modal analysis, you can check this other article from my blog:
If you like this video, could please help me by liking it? Thank you so much!
–Cyprien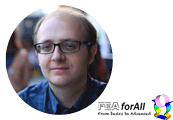 Any idea for the next tutorial you would like to see?
Post a comment and let me know!