I am back for a new video about Salome Meca and Code_aster… this time about glued contact!
If you want to perform an FEA simulation or a mechanical system, it only seems natural to have several parts in your analysis interacting together…
Even if for test cases, you can use a simple plate model, real models aren't like that.
So… several people asked me over Linkedin how to do this seemingly simple thing in Salome Meca and Code_Aster.
And I decided to build the simplest model to demonstrate that (Two 3D cubes) and make a new video about it.
Here's what you will learn:
How to create the geometry for a 3D model
How to mesh it and create groups
How to assemble several mesh sets as one to facilitate the definition of your analysis
How to create a glued contact between 2 parts
How to check that it works and that you get correct results
Here's the video:
*Note: You'll remark righteously that I made a few mistakes during the modeling phase, but I decided not to edit this part to eventually leave the liberty to some developers watching to think about eventual improvements of the graphical interface… cough, cough
If you like this video, could please help me by liking it? Thank you so much!
–Cyprien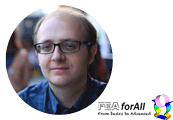 Any idea for the next tutorial you would like to see?
Post a comment and let me know!