Lately, I started to work more and more with CFD Solvers using the Lattice Boltzmann Method.
There was already an article about it on the blog for those who remember, but I thought that a video would be even nicer!
So, I finally made it and It's pretty cool (If you like Physics) :)
So in this video I'll go over the basic concepts of the Lattice Boltzmann Method in an easy and understandable way as usual, such as:
Why do you need the Lattice Bolzmann Method?
What's the difference with more traditional CFD simulation algorithms?
What is the LBM Equation and how we come to it?
Here's the video:
Check the original article related to this video here if you prefer text format:
And if you want to go deeper, you can read this one:
Hope you enjoy the video, give it a like if you do! And Leave some comment on this page, I like to know if you learned something useful from all this ;-)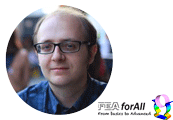 Cyprien "Explaining Better the LBM" Rusu