Time to test some new open source codes!
Today, I am trying Palabos, a CFD open source code based on the LBM Method.
This follows the video about the LBM Method that I published last week (Link here)
Trying Palabos for Open Source LBM CFD
As an engineer, you always need to test and try some new tools, because you never know what can become handy for your job.
There are many open source codes available which are accurate and tested, however not necessarily easy to use (contrary to what their website says…)
It's often a leap of faith to see if you will be able to install, understand and run few examples with a new code, because many things can change widely from one code to another…
Here we have Palabos, it seems to be a great code developed from more than 10 years and which has a lot of scientific papers to its advantage.
The input deck is in C++, so you will need to have some knowledge of this language if you plan to go deeper.
Ok, let's try it together now and see the result:
I hope you like this kind of videos and if you have some ideas or suggestions, please leave them here on the blog, I read all of them.
Thank you for your support as always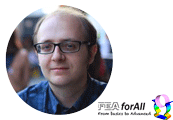 Cyprien "Open source LBM is here" Rusu