In this video, I will show you how to use Trame, a new open-source framework developed by Kitware to create a scientific app within minutes!
This will allow you to use the power of VTK and Paraview in your browser to build powerful scientific visualisation apps.
Here's the video:
What you will learn in this video:
What a web app is
How to install and launch the first Trame Framework
How to make your first scientific app with Trame to display a Code (through VTK)
If you like this video, leave a comment and let me know!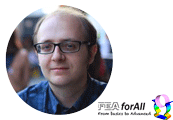 Cyprien "Teaching you how to build web apps" Rusu