Let's suppose that someone in a bar asks you what is stress linearization, how would you answer?
(The bar just next MIT…)
I would answer like that:
"When you apply a pressure on a solid and this solid becomes stressed, stress created has 6 components in each point of the solid. It's cool because your stresses are totally defined in all directions, but this is not the way the guys who wrote the ASME code wanted it to be"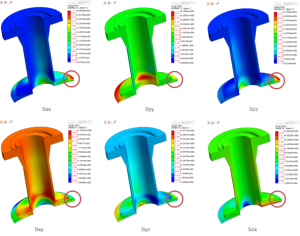 Why is that?
"Because in the code, stresses are separated in 3 classes that are associated with different types of failure:
Primary stress is associated with gross plastic deformation.
Secondary stress (plus primary stress) is associated with incremental plastic collapse.
Peak stress (plus primary, plus secondary) is associated with fatigue failure
Each "type" of stresses is limited to different allowable values specified in terms of a design stress"
How do I determine those 3 classes of stresses from the six stress components I get from my FEA analysis?
"Stress linearization of course!"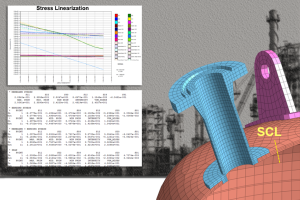 So stress linearization is a way to convert the six stress components into those primary, secondary, and peak stresses?
"Yes, it is, now you got it"
But how does it really work and how can it transform those 6 components into primary, secondary and peak stress?
"I cannot tell you everything, sometimes, you just have to open a book and learn by yourself!" (Translation: Actually, I don't know but if you find it in the book, let me know…)
"But remember, there are also limitations to stress linearization due to elastic analysis! The Major problem is the stress categorization because stress distribution must always be defined in terms of membrane, bending, and peak stress."
"Moreover, stress cannot always be linearized everywhere in a vessel… but in practice designers don't really care and regard linearization as valid throughout the vessel for both 2D and 3D models."

Want to know more about stress linearization?
Here's another article about the topic: