I realised that this is one of the first tutorial that I made which focus on showing more in details how to use the Geom Module to create a CAD model!
This is what you will learn here:
– How to generate some planes, points and curves
– How to use basic functions to extrude in various directions
– How to use boolean operations
In a 2nd part video, I will show you how to simulate this model with Salome-Meca and aster study:
This is the 2nd part of the tutorial. You will learn:
– How to mesh the model
– How to generate the groups for simulation
– How to use Aster Study to simulate this model and obtain stress and displacement results
---
If this is useful for you, please subscribe to my channel and give a like to the video!
Thank you so much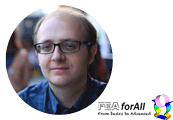 Check my other Salome-Meca Tutorials here: