In this 4th tutorial, we will look into an amazing OpenFoam v8 Example, the flow around a MotorBike!
This tutorial is especially useful because it provides us some knowledge of how the SnappyHexMesh works in OpenFoam.
After showing you the motorBike Example, I will show you how to modify it to run this simulation with your own model!
What you will learn in this video:
How to get and setup the motorBike example
How the SnappyHexMesh works
How to run the simulation with OpenFoam
How to post-process the results in ParaFoam
How to create a simple cylinder model in Salome
How to modify the example to simulate the flow around your cylinder
Openfoam is currently the leading free and open-source solver for Computational Fluid Dynamics (CFD).
If you like this kind of articles and if this is useful for you, please let me know in the comments!
I read every comment I get and I try to answer the questions as best as I can also ;-)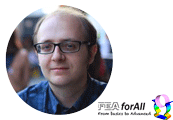 Cyprien "SnappyHex is cool" Rusu