In the last article, I described in depth Modal Analysis, Eigenvalues and all what that means and in this article, I will dive into what is frequency response analysis.
The most important lesson about modal analysis

– Modal analysis helps to determine the modes of vibrations and the frequencies at which those modes are triggered
– Modal analysis doesn't give you any info about the real deformation that an excitation of one of those modes will actually cause
When you have to do a dynamic analysis, modal analysis is only the beginning!
I think it's clear:
Some modes will cause more « resonance » than others (and thus more damage)… so we want to know which ones and we want also to calculate the maximum deformation for each of the modes « triggered ».
Now how do we actually do that?
Case Study: the utrasonic welding machine
In this section, I'll explain to you first what is an ultrasonic welding machine, how it work, and then I'll show you a full tutorial and analysis about how to actual SIMULATE that by performing a frequency response analysis.
If you don't know how it works, here's the wikipedia definition:
Ultrasonic welding is an industrial technique whereby high-frequency ultrasonic acoustic vibrations are locally applied to workpieces being held together under pressure to create a solid-state weld. It is commonly used for plastics, and especially for joining dissimilar materials. In ultrasonic welding, there are no connective bolts, nails, soldering materials, or adhesives necessary to bind the materials together.
And here is a video which shows the principle:
It's actually vibrating so fast that you don't see it vibrating! Amazing! :)
But do you hear this noise when it vibrates? This is a noise created by an ultrasonic wave
Now think about it… this part is by nature submitted to high frequency vibrations.
But how do we know that the frequency of vibration won't excite one of the natural frequencies…causing resonance and unexpected failure??
That's exactly what Frequency response analysis will help us to understand!

What is frequency response analysis and what's the difference with modal analysis?
When you do modal analysis, you are asking your part: « Hey, what are the dangerous natural frequencies that make you resonate? »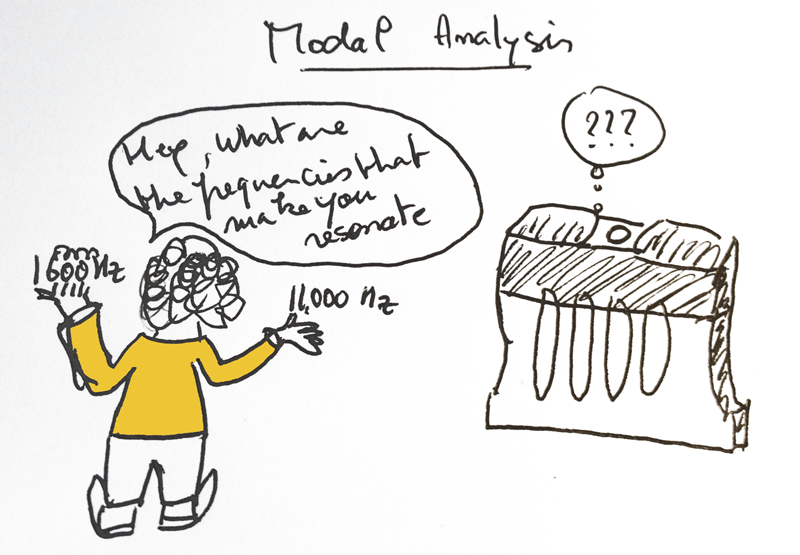 When you do frequency response, you are not « asking », you are actually testing: « Let's input a load which will vibrate in a certain defined range of frequencies and let's see how you actually deform! »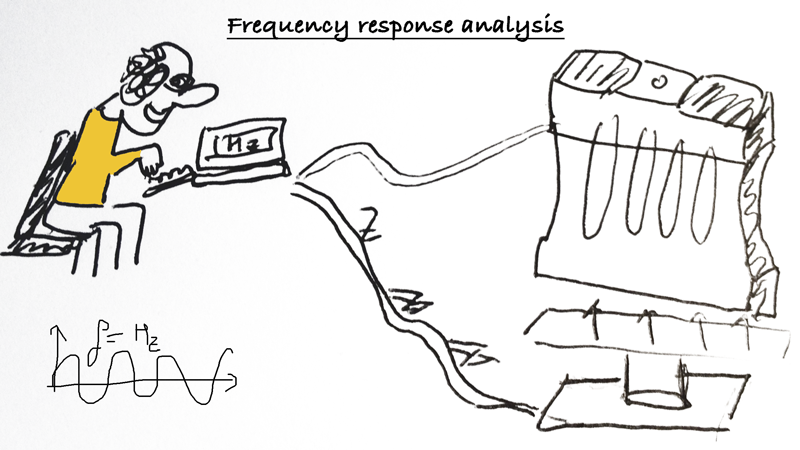 There is a huge difference between the type of results you will get from Modal Analysis and the type of results you will get from Frequency response analysis. What is frequency response analysis?

I decided to create a full video tutorial for you in which I'll show you:
1- How to make a modal and a frequency response of a ultrasonic welding machine horn
2- How to analyze and understand the results
What I'll show you in this video took me months to understand, that's why I thought it may be extremely useful to you as well!
That's all for today!
If you like this article, there are 2 things you can do for me:
1- Help me to share this article on Linkedin, facebook, twitter or in your habitual forum to help more people understand frequency response analysis (use the share button on the left of the article).
2- Let me know in the comments what you learned from it and what you would like to learn even further so I can write more on the topic
Thank you for reading!
–Cyprien
If didn't read the previous article about modal analysis, here it is: