Do you remember that few hundred years ago, people believed that the earth was squared?
We all have wrong beliefs that limit or hinder or success!
They can come from your family, your environment or even from your education… and they stop you to become better at what you do unconsciously.
I often see people talking about wrong beliefs about money or relationship, but not many people talk about the beliefs we have about FEA.
I went through all my papers and the communications I had in the past with outstanding engineers and I collected for you 7 wrong beliefs about meshing.
That's important!
Because knowing which beliefs are wrong is the first step to change those beliefs, improve and become better at what we do.
I listed them below.
And…by the way, if you think that I wrote is wrong (even partially), let me know! I am open to feedback and correction because everything I do is about making things better.
Belief#1 Meshing isn't so important
I think that the previous article that I wrote,Can a wrong mesh impact your simulation results? , was rather explicitly showing why meshing was more important than we may think. If you didn't read it, you can read it here.

Belief#2 Meshing can be done by pushing a button
Here comes one of the most persistent legends that companies selling FEA software would like you to believe… The « one button is enough » Myth.
Technically, it CAN… but the problem behind is: Is it right to do like that?
I have to say that it's always very tempting to believe in the full automation of the meshing process and I would like to believe in that too…if that was only true.
Don't take it wrong…Automatisation is great, I love it! What I don't love though is that everything is kept hidden to me behind the scene…as if I didn't need to know the algorithms actually used to create my meshing.
A lot of things are simplified at the extreme…so much in fact that it becomes unusable (sometimes).When it actually works… no problem…Everyone is happy…But when it fails…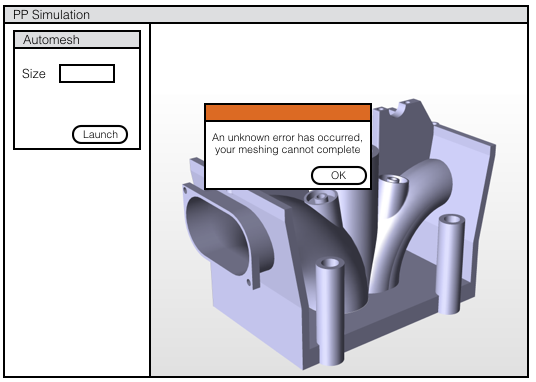 Have you ever tried to mesh a model inside a CAD-embedded CAE solution with just one button and then got an unknown error? Not any mention about what actually failed to mesh and why.
Just a dialog box popping on your screen telling you that there is nothing to do, your model is just to working out…
Man, when I got such kind of problem, I swear that I want to break my computer…(only to remember the price that I paid for it)
The problem lies in this « push button » way of solving things. An engineering problem is always something that requires some kind of tweaking of the model with the tools available to find an effective and accurate answer.
Simplifying too much is maybe good to « sell » FEA software, but it's definitely not good for the actual job.

Belief#3 Automeshing is the best way to mesh 3D solid models
Ok, now, this is close to what I just described, but not exactly the same either.
Automeshing CAN be great and give good results (If you know how to set everything up correctly), but does it ALWAYS give the best results?? Nope.
Automeshing is mainly using tetrahedral elements because this is the most « convenient » way for the algorithm to mesh most of the geometry shapes.
The important word here is « convenient ». It is indeed convenient, but not necessarily the best way to get accurate and efficient results for every model.
So, just remember that there are other options.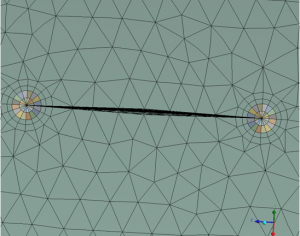 Just for the anecdote, (that's a true story!)… I have seen people automeshing their model and getting results and then spending hours to make reports and at the end, they discovered that everything was wrong, because there was a big hole in the middle of the mesh…and nor the automesher, nor the solver told them that there was an error. I can tell you that when they learned that, they weren't happy…
Belief#4 Everything is about the size of the mesh
If you don't get a good accuracy, mesh your model smaller!
Really?
I see a lot of people choosing the smallest mesh size possible, run the meshes, get millions of elements…and wait for HOURS (or even DAYS) to get a solution.
They don't realize the huge waste of time it is.
First, you need to know what you actually want to simulate…
Then, decide the appropriate meshing strategy.
The mesh doesn't need to be so small everywhere in the model. It just needs to be converged enough so you get the right solution with some good accuracy. It's a trade-off between a lot of parameters that you have to learn to control.
Belief#5 The best element is always the 3D solid
Now, another variant, the people who know only one element, the 3D solid element.
Whatever the model they get, they mesh it in 3D to get the most realistic model they think they can and then wait for a solution.
Those people don't understand that every element has its strengths and weaknesses.
That's right…some elements are better than others to simulate a certain type of systems.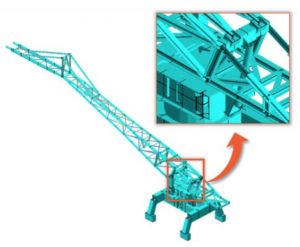 Sometimes 3D solid is great, but no always.
Belief#6 A good FE model comes from a good CAD model
There is a fundamental difference between CAD and CAE.
CAD is about design and appearance, CAE is about engineering and physics.
A good FE model is a model that is able to represent realistically the physics of the real system, but it doesn't necessarily mean that it has to follow the CAD model exactly.
Physics is sometimes better represented with a smaller and more compact model that gives away exactly the kind of results we need, rather than a huge 3D monster model which « looks good » but never gives good results once it passes the solver phase.
Of course, when a CAD model IS required, then a GOOD CAD is always better than a wrong and broken one… ;-)
Belief#7 Good mesh is always good
Finally, the meshing perfectionists…. Spending time to create the perfect meshing just for the sake of having it is not good either!
Your meshing must be created in accordance with your simulation goals and the kind of results you want to get.
Sometimes, a rather coarse mesh will give you the insights you need, most of the time, it won't.
What engineers want is NOT a perfectly meshed model with a beautiful shape that you can print and display on the wall…
(Unfortunately, I did that some years ago, haha… )
What the engineers need to get are valuable data about the physical behavior of a mechanical system… in the least amount of time.
Engineers aren't artists.
///////////////////////////////////////////////
Was this article helpful? Do you have something to add or something related?
Leave a comment and let me know! I read and reply to everyone.
It always great to know that the article has been useful for you and it motivates me to write more. Thanks for reading!